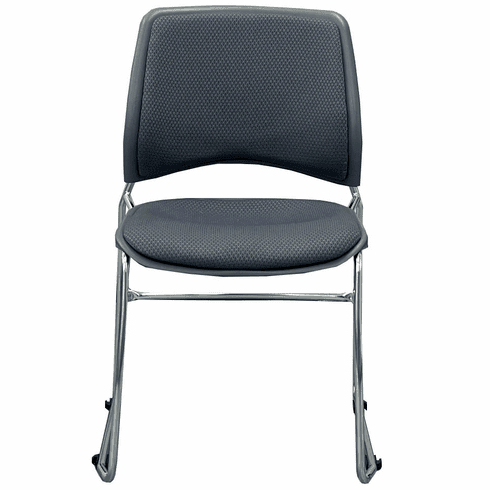 300 lb. Capacity Gray Premium Padded Ganging Stacking Chair
Product Description
Effortlessly catering to the needs of sizeable audiences, our 300 lb. Capacity Gray Premium Padded Ganging Stacking Chair offers both comfort and functionality. Crafted in a refined shade of gray, each chair boasts a 300 pound capacity, ensuring robust support during protracted presentations, meetings, and seminars. Meticulously contoured, the ergonomically designed seats and backrests conform to the body's contours, expertly distributing weight and alleviating pressure points. This chair presents a cost-effective remedy for instances requiring extensive seating arrangements. Sold exclusively in sets of four, the listed price corresponds to a single chair. Availability is immediate.

Both the chair's seat and backrest embrace a generous 0.5-inch thick cushion, upholstered in an understated gray patterned fabric. A sturdy gray polypropylene shell forms the foundation, promising longevity. The chrome sled base frames are thoughtfully equipped with integrated ganging brackets on the legs, ensuring effortless organization when arranging chairs in uniform rows. Preinstalled ganging brackets seamlessly interlock with neighboring chairs, creating a streamlined layout. This functional feature enhances room orderliness and usage efficiency, incurring no extra expense.

Verified through ANSI/BIFMA laboratory testing, this chair guarantees commercial-grade performance with a 300 pound weight capacity. The robust steel tube frame, meticulously welded, incorporates an added front cross brace, reinforcing structural integrity. Its chrome finish not only endows the chair with durability but also elevates its aesthetic appeal within any environment. Accommodating convenience, these chairs can be stacked up to 16 high using a convenient mobile chair dolly, effortlessly passing through standard doorways. Alternatively, stacking up to 6 chairs high without a dolly remains a viable option. For those interested, the Chair Dolly is available for separate purchase below.

Ideal for grand assemblies such as wedding halls, event centers, educational institutions, and places of worship, these chairs offer an optimal choice. Moreover, they prove suitable for reception areas requiring a fusion of affordability, comfort, and long-lasting, cohesive stackable seating solutions.

ANSI/BIFMA approved. 5-year Manufacturer's Warranty. Seat measures 18-inches wide by 18-inches deep by 19-inches high. Back is 18.75-inches wide by 16-inches high. Measures 18.75-inches wide by 24-inches deep by 33-inches high overall. Seats and backrests ship detached - connect with 6 screws per chair. Shpg. wt. 13 pounds. PRICE INCLUDES SHIPPING! IN STOCK!
Product Accessories