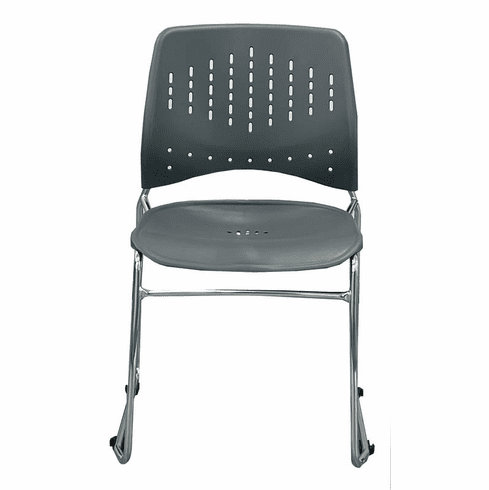 300 Lbs. Capacity Premium Ganging Office Stack Chair in Gray
Product Description
The 300-Pound Capacity Premium Stacking Chair in Gray from InStockChairs is an excellent and durable mass seating solution. SOLD IN MULTIPLES OF FOUR ONLY. PRICE IS PER CHAIR. Sporting an impressive 300-pound weight capacity, each chair offers an incredible combination of comfort, strength and durability. Built-in ganging brackets make chair organization a breeze and overall costs. IN STOCK!


Long Lasting Comfort
Our 300-Pound Capacity Premium Ganging Office Stack Chairs are designed with ergonomics and comfort in mind. Both the back and the seat are gently curved to form to the user's body for extended comfort in longer sitting situations. Whether you're seeking stackable chair for you place of worship, looking for extra chairs to expand your conference room or adding high-capacity stacking chairs to a busy cafeteria or breakroom, our 300-pound capacity option is an ideal option.


Low-Maintenance Durability
Strength and durability are first and foremost in this premium stacking chair. The gray polypropylene seats and backs are great for high traffic areas and require no maintenance. The chair frame is all welded steel tube, including a front cross brace for added rigidity. These stackable chairs have been ANSI/BIFMA lab tested for 300-pound weight capacity in commercial use applications. Chrome finished frames are attractive yet scratch resistant for great durability. An ideal choice for any large audience, such as in churches, schools, auditoriums or any other large meeting or gathering area that changes use often.


Simple Convenience
The built-in ganging brackets are a great convenience when setting up these stacking chairs for large room use. Each set of preinstalled ganging brackets interlocks into the next chair just by setting the chair in place. The system keeps your room orderly, is simple to use and comes included at no additional cost.

Stackable up to 16 chairs high on convenient mobile chair dolly sold below.


Premium Features:
ANSI/BIFMA approved
Five-Year Manufacturer's Warranty
Seat measures 18 inches wide by 18 inches deep by 18.5 inches tall.
Back is 18.75 inches wide by 16 inches tall.
Measures 18.75 inches wide by 24 inches deep by 33 inches tall overall.
Seats and backrests ship detached. Easily connect them with six screws per chair.
Shipping weight is 10 pounds.
Price includes shipping! (Truck shipment - See Terms & Conditions).
Free shipping to 48 states!
Product Accessories