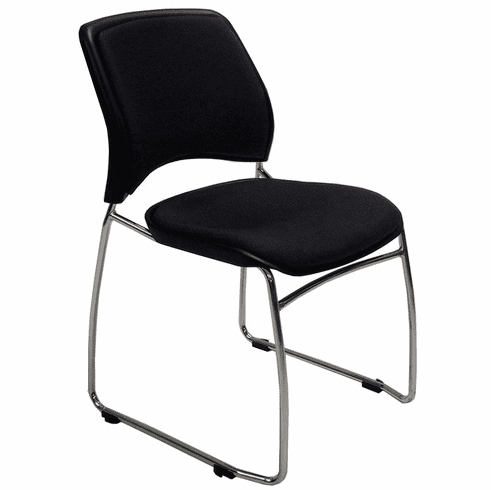 300 Lbs. Capacity Premium Padded Ganging Office Stack Chair
Product Description
An ideal choice for large audience seating in churches, schools, auditoriums or any meeting or gathering area, these high-quality ganging chairs turn any space into an auditorium or meeting space in an instant.
SOLD IN MULTIPLES OF FOUR ONLY! PRICE IS PER CHAIR. IN STOCK!
They're uniquely designed to provide sturdy comfort during performances and programs and then to stack and store effortlessly out of the way when no longer needed.
These padded stack chairs can be stacked 16 chairs high with the
convenient mobile chair dolly
or up to six high without a dolly. They're an excellent choice for commercial environments and provide a professional look and feel with black seats and backs coupled with attractive chrome-finished frames. The low-maintenance appeal and versatile stackability make these some of our most popular stacking office chairs!
Our ergonomically designed padded stacking chair is of the highest quality and likely the most comfortable stacking chair to be found. The .5" padded and upholstered cushions complete the look of this chair and enhance user comfort. Both back and seat are ergonomically formed to the user's body to distribute weight and offer extended comfort in longer meetings. Any user will be surprised at the comfort achieved by this well designed stack chair.
Strength and durability are also superior in this premium stacking chair. Polypropylene seats and backs are great for strength and require no maintenance. The chair frame is all welded steel tube including a front cross brace for added rigidity. ANSI/BIFMA lab tested for 300 pounds of weight in commercial use applications. Chrome-finished frames are attractive yet scratch-resistant. An ideal choice for any large audience seating such as churches, schools, auditoriums, or any other large meeting or gathering area.
The built-in ganging brackets are a great convenience when setting up the chairs for large room use. Each set of preinstalled ganging brackets interlocks into the next chair just by setting the chair in place. These brackets keep your room orderly and are included at no additional cost.
ANSI/BIFMA approved. 5-year Manufacturer's Warranty. Seat measures 18"W x 18"D x 18.5"H. Back is 18.75"W x 16"H. Measures 18.75"W x 24"D x 33"H overall. Seats and backrests ship detached - connect with 6 screws per chair. Shipping weight 13 pounds. PRICE INCLUDES SHIPPING!
Assembly Instructions Video
Product Accessories