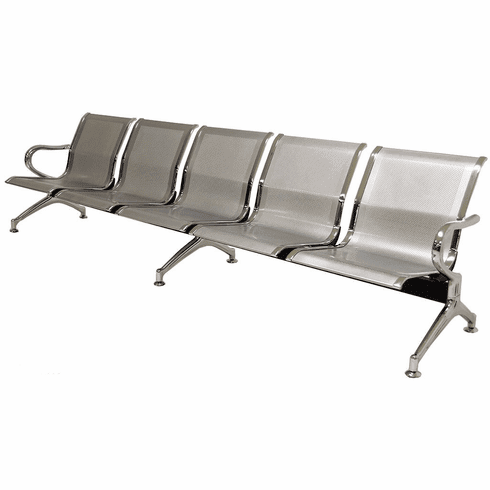 5-Seater Heavyweight Airport Seating
Product Description
Beam seating originated in airports. But today, it accommodates all types of businesses that see a high volume of customers and need to control traffic flow. You'll find beam seating in transit and bus stations, 24- hour clinics, veterinarian offices, doctor offices, dentists, hospitals, car dealers, retail stores, salons, and other large companies.
Stylish Versatility
Heavyweight Airport Beam Seating is a very popular choice due in part to its metallic with chrome trim design. This clean, simple look makes beam seating not only very appealing to the eye, but also miraculously easy to clean and maintain. Our airport seating is also available in 1-, 2-, 3- and 4-seaters , so you can mix and match to create the combination that works in your space . For even more customization, add optional vinyl padding that's available in a variety of colors to make a stylish statement.
Comfortable Durability
Heavyweight steel construction throughout this airport beam seating means it can stand up to lots of sitting. Perforated metal seats increase circulation throughout the chair, allowing smooth airflow. This also creates a comfortable, contoured seat back that is optimal for long periods of sitting .
Airport Beam Seating Features:
Weight capacity of 330 pounds per seat.
Seat is 20.75 inches wide by 17 inches deep .
Backrests are 20.75 inches wide by 18.5 inches high .
Seat height is 15.5 to 16 inches high - 16.75 to 17.25 inches high with optional cushion sets - depending on glide height levels.
Five-Year Limited Warranty.
Left and right outside armrests are included.
A dditional center support leg is included.
Measures 115 inches wide by 27 inches deep by 30 to 30.5 inches tall overall.
Shipping weight is 110 pounds.
Price includes shipping! (Truck shipment - see terms and conditions.) IN STOCK!
Product Accessories