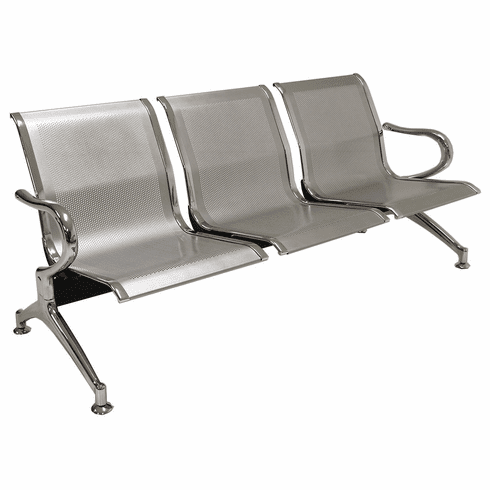 3-Seater Heavyweight Airport Seating
Product Description
Heavyweight Beam 3-Seaters stand up to high traffic areas with style. Get more for your waiting room buck with this all metal, low-maintenance, high-style reception seating.
Our Heavyweight Airport Seating is in stock and accommodates all types of customers that benefit by using beamed or grouped seating. That includes airports, of course, but also transit and bus stations, 24-hour clinics, veterinarian offices, doctor's offices, dentist offices, hospitals, car dealerships, retail stores and salons.
IN STOCK!Versatile Beam Seating
Metal beam seating means multiple chairs are attached to a single metal beam for a stable, durable seating solution. This kind of seating is ideal for waiting rooms, lobbies and reception areas because it helps you manage the flow of foot traffic while creating a comfortable seating environment for your customers or clients. Heavyweight Beam 3-Seaters are large enough to configure walkways but small enough to work in a lot of different room sizes - making them the ultimate in versatility.
Low Maintenance & High Style
The all-metal construction of our airport beam seating is very easy to keep clean, making these metal bench seats an excellent choice for your busy commercial environment.
The simplicity of material and design also makes our heavyweight beam seating visually pleasing, which is why they're one of our most popular high-traffic selections. The same design is available in 1-, 2-, 4- and 5-seater options as well, so you can completely customize your waiting room area.
Please see all our
airport beam seating
for more options.
Durable and Comfortable
This seating offers a heavyweight steel construction throughout as well as perforated metal seats that increase circulation throughout the chair. This also creates a comfortable, contoured back seating, optimal for sitting for long periods of time. Add optional vinyl padding, available in a variety of different colors for even more style and comfort.
Features of Heavyweight Beam Seating:
Weight capacity of 330 pounds per seat.
Seat is 20.75 inches wide by 17 inches deep .
Backrests are 20.75 inches wide by 18.5 inches high .
Seat height is 15.5 inches to 16 inches - 16.75 inches to 17.25 inches with optional cushion sets - depending on glide height levels.
Five-Year Limited Warranty.
Left and right outside armrests are included.
Measures 70.25 inches wide by 27 inches deep by 30 to 30.5 inches tall overall.
Shipping weight is 68 pounds.
Price includes shipping!
Product Accessories