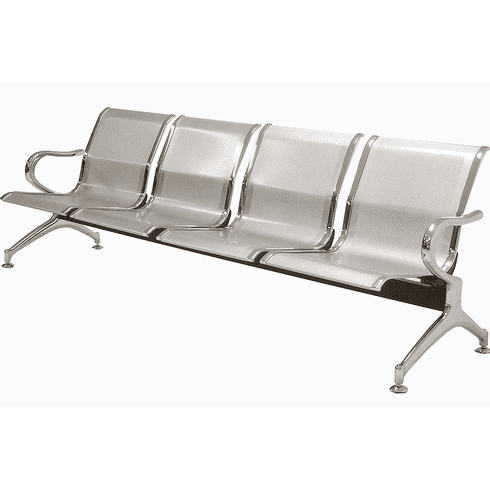 4-Seater Heavyweight Airport Seating
Product Description
The 4-Seater Heavyweight Beam Seating from InStockChairs brings a simple and economical solution to high-traffic seating areas. Keep it simple with this low-maintenance, high-style metal airport style seating solution.
IN STOCK!
Our Heavyweight Airport Seating is in stock and ships for free to 48 states. Once considered only airport chairs, ganged or group seating like our heavyweight 4-seater accommodates all types of waiting areas that benefit from easy-clean, high-volume seating , like transit and bus stations, 24-hour clinics, veterinarian practices, doctor waiting rooms, dentist offices, hospitals, car dealerships, retail stores and salons .
Easy Versatility
Heavyweight Airport Beam Seating is a very popular choice due to its stylish and low-maintenance metallic with chrome trim design. This makes our mid century airport -style seating not only very appealing to the eye and comfortable but also miraculously easy to clean and maintain. This type of airport chair is also available in 1-, 2-, 3- or 5- seat options in addition to the 4-seater airport beam seating for sale here. These chairs are in stock and ship for free!
Heavy-Duty Performance
Heavyweight steel construction throughout makes our airport beam seating a real value. Perforated metal seats increase circulation throughout the chair, allowing smooth airflow. This one-piece airport seating design also creates a comfortable, contoured back that is optimal for long periods of sitting . As an extra feature , add optional vinyl padding in a variety of different available colors for even more style and comfort. Not intended for outdoor use.
Fabulous Features:
Weight capacity of 330 pounds per seat.
Seat measures 20.75 inches wide by 17 inches deep .
Backrests measure 20.75 inches wide by 18.5 inches tall
Seat height is 15.5 to 16 inches (16.75 to 17.25 inches with optional cushion sets) depending on glide height levels.
Five-Year Limited Warranty.
Left and right outside armrests.
4-Seater measures 92.75 inches wide by 27 inches deep by 30 to 30.5 inches tall overall.
Shipping weight is 83 pounds .
Price includes shipping!
Product Accessories