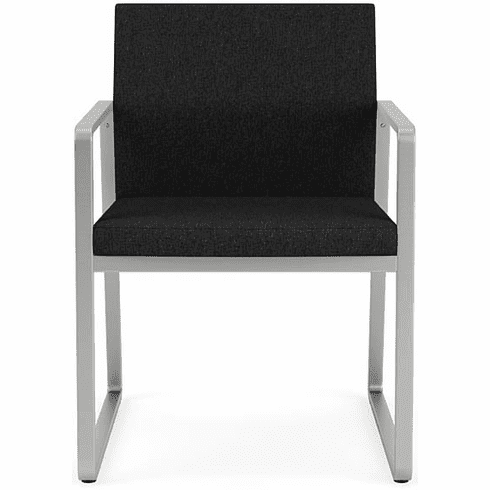 Gansett Custom Upholstered Guest Chair - Upgrade Fabric or Healthcare Vinyl
Product Description
The Gansett Custom Upholstered Guest Chair with Upgrade Fabric or Healthcare Vinyl is an ideal option for your busy medical facility. Made up of components that are durable, comfortable and attractive, this office chair brings a modern, updated look to your office space.
One of the distinctive features you'll enjoy with the Gansett upholstered guest chair is its variable seat position. During assembly, the seat can be mounted so it sits flush with the backrest to create a sleek and consistent look. Alternatively, the seat can be placed a few inches away from the backrest to create a small gap that makes for easy cleaning while still providing a comfortable experience for the user.
Available in your choice of dozens of upgraded upholstery materials, this arm chair from the popular Gansett Custom Reception Furniture Collection can be easily coordinated with the rest of your space. The healthcare vinyl features antimicrobial properties that deflect germs and bacteria and is a great choice for medical settings. Upgrade fabric is also available in a range of stylish colors and patterns, so you can have this office guest chair upholstered to your liking.
This chair's impressive 300-pound weight capacity makes it the perfect choice for almost any lobby or waiting room. Need something that can accommodate larger visitors? Check out the 750-pound capacity
Gansett Custom Upholstered Bariatric Chair here!
This office guest chair measures 22.5 inches wide by 25.5 inches deep by 32.5 inches high overall. The seat measures 20 inches wide by 19.5 inches deep and is 18 inches high off of the ground. The backrest is 14.5 inches high, and the armrests are 24.5 inches high off of the ground.
The shipping weight for this Gansett chair is 32 pounds. It ships unassembled but is very easy to assemble upon delivery. PRICE INCLUDES SHIPPING!
CUSTOM ITEM MADE IN THE USA! Please allow 2-3 weeks for delivery.
Features:
300-pound weight capacity.
Durable painted steel frame is scratch and chip resistant.
Antimicrobial upholstery removes the threat of lingering germs and bacteria.
Dozens of fabric and vinyl selections available. Swatches available upon request.
Limited lifetime warranty and 2-year fabric warranty.
You May Also Like