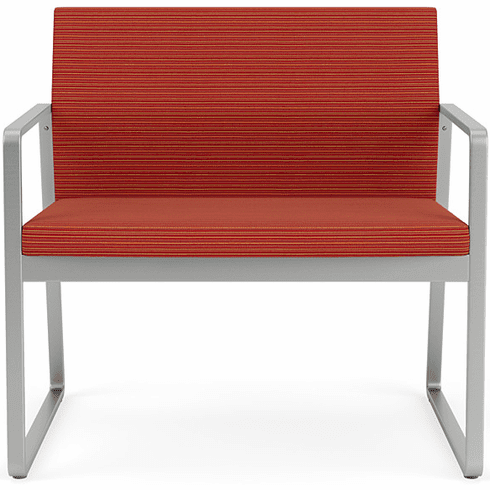 Gansett Custom Upholstered Bariatric Chair - Upgrade Fabric or Healthcare Vinyl
Product Description
The Gansett Custom Upholstered Bariatric Chair with Upgrade Fabric or Healthcare Vinyl is a must-have item for your medical facility, office lobby or reception area. This unique chair combines extremely heavy-duty components with a modern and attractive design. The emphasis on durability and strength makes this upholstered chair an excellent fit for welcoming visitors of all sizes to your business or facility.

The impressive 750-pound weight capacity makes this the perfect chair for a facility that caters to a larger clientele. Especially at medical facilities, the importance of inclusive seating helps all your guests feel welcome in your space.

There are two ways to set up this Gansett custom upholstered chair. During assembly, the seat can be positioned flush with the backrest or a few inches apart from the backrest. The latter setup is designed for easy cleaning, while the former offers a streamlined, classic appearance.

This Gansett upholstered office chair is available in your choice of dozens of upgrade fabrics and healthcare vinyls. Both of the upholstery options for this chair come from our lineup of upgraded materials. Choose the fabric for a soft-touch feel or the healthcare vinyl to enjoy antimicrobial properties that deflect germs and bacteria.With the healthcare vinyl, your staff will find it easier to clean and sanitize the seating in your waiting room and feel more confident that germs are not lingering behind.

Overall measurements for the Gansett Bariatric Upholstered Chair are 32.5 inches wide by 25.5 inches deep by 31 inches high. The seat of the chair measures 30 inches wide by 19.5 inches deep and is 18 inches high off of the ground. The backrest is 14.5 inches high. The armrests are 24.5 inches high off of the ground.

Shipping weight for the Gansett Custom Upholstered Bariatric Chair is 46 pounds. This product ships unassembled. PRICE INCLUDES SHIPPING! CUSTOM ITEM MADE IN THE USA! Please allow 2-3 weeks for delivery.

Features:


750-pound weight capacity.
Durable painted steel frame is scratch and chip resistant.
Antimicrobial upholstery removes the threat of lingering germs and bacteria.
Dozens of fabric and vinyl selections available. Swatches available upon request.
Limited lifetime warranty and 2-year fabric warranty.