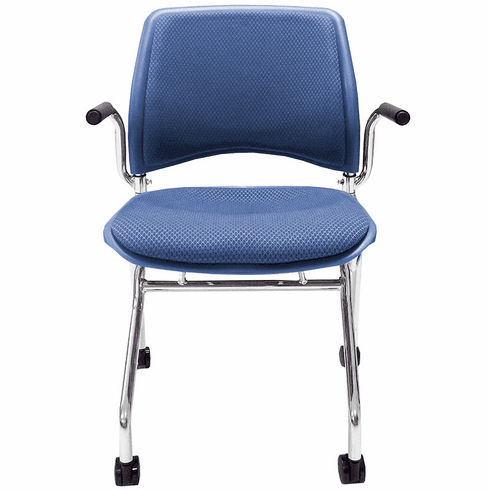 Padded Flip Seat Nesting Chair w/ Armrests & 300-Pound Capacity
Product Description
Our Padded Flip Seat Nesting Chairs with Armrests are a durable and cost-saving option for your training room or gathering space.
SOLD IN MULTIPLES OF TWO ONLY! PRICE IS PER CHAIR.
Featuring a 300-pound weight capacity and a fully welded steel frame, this stackable steel side chair with arms can provide you with years of reliable usage. A breeze to set up, each nest chair glides over four carpet casters for quick arranging and rearranging. When it's time to stow them away, simply flip the seat up to nest the chairs vertically without need for a chair cart or stacking dolly.
Choose from various fabric and shell colors - or opt for the black antimicrobial vinyl option for areas that require clean seating, like hospitals, clinics and lab settings.
Cost Savings
Chair dollies and carts are the hidden costs of traditional folding and stacking chairs. Usually several are needed for large numbers of chairs, costing upwards of hundreds of dollars per cart. Our Padded Flip Seat Nest Chairs with Armrests roll and stack vertically on their own, with no extra equipment to purchase.
IN STOCK!
Easy to set-up
Unlike steel folding chairs or stacking chairs that can cause repetitive-motion injuries during set up, this stackable steel side chair with arms can be pushed into place with one hand. Simply flip the seat down to use and flip it up to nest inward when being stored.
Features:
Sold in multiples of two chairs only!
This padded nest chair is an i deal choice for classrooms, training rooms, conference areas or any large gathering spaces that require flexible, easy to move and store seating.
This ergonomic nest chair makes it e asy to flip the seat up, roll away and nest the chair for storage.
The 0.5-inch thick padded seat and backrest come upholstered in a choice of fabrics or a black antimicrobial vinyl.
ANSI/BIFMA approved to 300-pound weight capacity!
Completely welded 0.875-inch diameter one-piece steel frame features a chrome finish for stylish appearance and scratch resistance.
Durable chrome finish offers superior durability compared to painted frames.
This stackable steel side chair with arms is a flexible option for spaces that frequently rearrange.
Supportive armrests feature a soft cover for comfort.
Five- Year Limited Warranty is included.
Padded Nest Chair Measurements and Details :
Fully assembled nest chair measures 23 inches wide by 22 inches deep by 32.5 inches high overall.
Seat shell measures 18.25 inches wide by 18 inches deep.
Nest chair padded surface measures 17 inches wide by 17 inches deep.
Backrest measures 18.5 inches wide and is 16 inches deep from the seat shell.
Seat height is 18 inches from the floor.
Armrests are 25.5 inches high from the floor.
Space between armrests measures 21 inches .
Armrests/sleeved area measures 8.5 inches long.
Fully assembled chair requires 21 inches of floorspace depth-wise (including casters) when seat is flipped up. Each additional chair adds eight inches of depth.
Ships unassembled.
Shipping weight is XX pounds.
Price includes shipping!