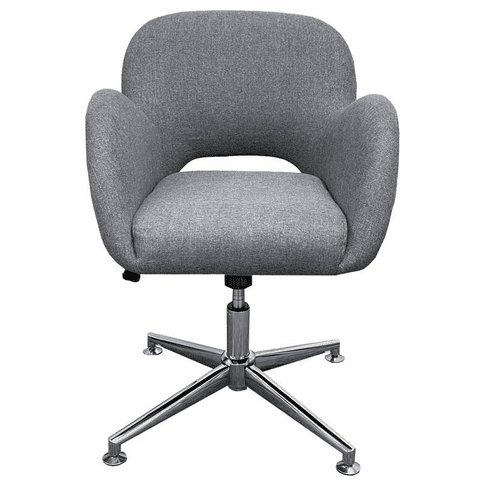 Gray Fabric Low Back Retro Swivel Guest Chair
Product Description
This mid-century themed gray fabric swivel guest chair harmoniously blends vintage style and modern comfort. Ample padding is paired with a durable base and tilting mechanism, creating an incredibly relaxed environment for your staff and guests.
IN STOCK!
You will certainly enjoy the charm of the vintage-inspired textured gray fabric. The unique blend of modern and retro elements easily complements any existing décor that your space may have. The fabric is slightly textured, which works to add unique visual depth to whatever room these chairs are in. You will appreciate the rounded armrests, which provide comforting support for both short minutes in a reception area as well as long hours in the meeting room.
This chair features a pneumatic height adjustable mechanism, which allows each user to raise and lower the seat to whatever height they need. The seat height is adjustable fro 17.5 to 21.5 inches from the floor. With this chair, you can also take a load off thanks to the tilting mechanism. You can easily recline and tilt in this chair, making those long meetings and training sessions just a little more bearable.
Gray Fabric Low Back Vintage Swivel Guest Chair measures 27 inches wide by 24 inches deep by 30 to 34 inches high overall. See full measurements below. 250 pound weight capacity.
Easy assembly.
Shipping weight 33 pounds. All components exceed ANSI/BIFMA commercial use requirements. Meets CA fire foam approval. 5-Year Limited Warranty. PRICE INCLUDES SHIPPING!
Features and Functions:
Vintage inspired design is the perfect complement to any trendy or modern space.
Versatile design for use in reception areas, conference rooms and more!
Padded armrests, backrest and seat for complete comfort and support.
360 Degree Swivel.
Height adjustable! Seat raises and lowers from 17.5 to 21.5 inches from center of the seat to the floor.
Tilt, with tension control and lock, for locking chair in upright position.
Measurements:
Measures 27 inches wide by 24 inches deep by 30 to 34 inches high overall.
Seat cushion measures 17 inches wide by 18 inches deep.
Backrest measures 24 inches wide by 16 inches high.
19.5 inches between arms, at widest point.
Arms are 6 inches high over the seat.
Armrests are 3.5 inches wide, at widest point.
Armrest height from floor: 22 to 26 inches high.
Base is 28 inches in diameter.
250 inches weight capacity. Meant for use 6-8 hours a day, 5 days a week.