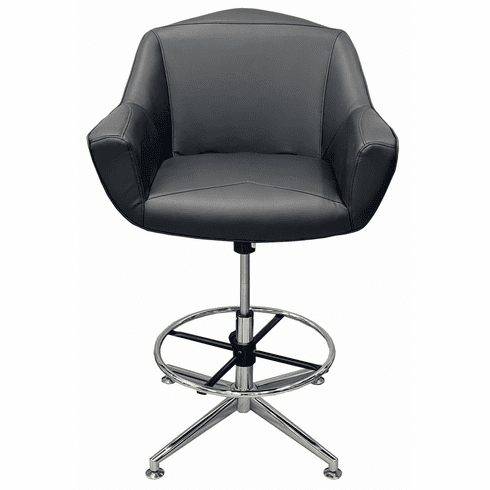 Leather Low Back Mid Century Swivel Stool w/22" - 31"H Seat Height
Product Description
Introducing the Leather Low Back Mid Century Swivel Stool from InStockChairs, where style meets comfort effortlessly. This stool blends a chic design with the opulence of leather, making it an ideal seating solution for standing-height desks, conference tables, and collaborative work areas. You can choose between classy Black or elegant Ivory White bonded leather to match your style. Guess what? It's IN STOCK and ready to roll! Crafted for durability, this chair is top-notch for commercial spaces like offices and lounges. Its bonded leather not only adds a touch of sophistication but also makes cleaning a breeze. The sturdy swivel chrome base can handle weights up to 250 pounds, offering a sleek contrast to the leather covering. Drawing inspiration from the mid-century era, this chair exudes a timeless charm. Its smooth silhouette, crisp lines, and tapered legs make it a visual stunner that effortlessly fits into modern and contemporary interiors. Perfect for meetings, collaborative sessions, chill-out areas, or any spot where you'll be parked for a while. One of the coolest features? Its adjustable height mechanism lets you tweak the chair's height from 22 to 31 inches, catering to your preferences or different users' needs, ensuring everyone enjoys maximum comfort. Plus, it comes with a height-adjustable chrome footring for that extra touch of flexibility. Whether you're decking out a fancy office, a chill staff hangout, or a welcoming reception area, our Leather Low Back Mid Century Swivel Stool is the ultimate pick. Stool measures 27.5 inches wide, 24 inches deep, and stands between 36 to 45 inches high overall. Check out the full measurements below. 250 pound weight capacity. Easy assembly. Exceeds ANSI/BIFMA commercial use standards. PRICE INCLUDES SHIPPING!
Features and Functions:
Clean lines, tapered legs, and a bonded leather create a contemporary aesthetic that enhances the overall ambiance of your room. Choice of Black or Ivory White leather.
Versatile design for use in reception areas, conference rooms and more!
Padded armrests, backrest and seat for complete comfort and support.
360 Degree Swivel.
Height adjustable! Seat raises and lowers from 22 to 31-inches from center of the seat to the floor.
Tilt, with tension control and lock, for locking chair in upright position.
Height-adjustable chrome footring.
Easy assembly.
Measurements:
Measures 27.5-inches wide by 24-inches deep by 36 to 45-inches high overall.
Seat cushion measures 17-inches wide by 18-inches deep.
Backrest measures 24-inches wide by 16-inches high.
19.5-inches between arms, at widest point.
Arms are 6-inches high over the seat.
Armrests are 3.5-inches wide, at widest point.
Armrest height from floor: 28 to 37-inches high.
250 pound weight capacity. Meant for use 6-8 hours a day, 5 days a week.
5 Year Warranty