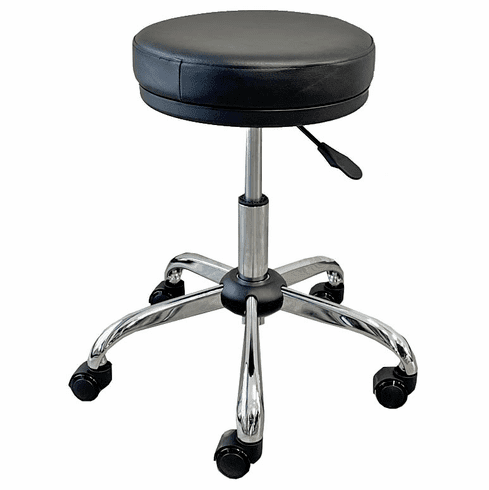 Antimicrobial Vinyl Medical Stool – 19.5 to 23.5 Inch Seat Height
Product Description
The 250-Pound-Capacity Antimicrobial Vinyl Medical Stool is designed with medical and healthcare environments in mind. The seat cushion is 14.5 inches in diameter and made from a sturdy high-density foam that is soft yet supportive. It is upholstered in a black antimicrobial vinyl, making it incredibly easy to clean and sanitize as needed to protect the health of employees and visitors. The small-scale design of this swivel stool not only makes it a great fit for medical offices and healthcare facilities, but also salons, beauty spas, classrooms, labs, tattoo parlors and industrial settings as well.
This medical stool's chrome base ensures continued durability and stability for users up to 250 pounds even with everyday use. The base is 20 inches in diameter, allowing it to tuck away easily under a countertop or in a corner. Five swivel soft casters are included for smoothly rolling across the floor on low pile carpeting, hardwood or tile.
The one touch pneumatic height adjustment easily raises and lowers the stool from a 19.5-inch seat height to a 23.5-inch seat height. Need something a little taller? Purchase the optional foot ring kit with taller optional gas cylinder to increase the seat height range to 24 to 33 inches.

Ships unassembled. Shipping weight is 18 pounds. PRICE INCLUDES SHIPPING! IN STOCK!

Features:

* Seat cushion features a poly seat shell for durability and rigidity.
* Seat cushion features 3.5 inches of high-density foam to hold its shape over time.
* Antimicrobial vinyl is resistant to germs and virus, ideal for healthcare settings.
* Polyurethane casters feature a softer plastic for use on hard floors. See upgraded rubber in-line casters sold separately below.
* Need something taller? Select the foot ring kit in the dropdown menu. SOLD SEPARATELY.
* Five-Year Warranty.

Functions:

* One touch pneumatic height adjustment
* Swivel
* Swivel casters

Measurements:

* Seat measures 14.5 inches in diameter by 3.5 inches thick.
* Base is 20 inches in diameter.
* Pneumatic height adjustable raises and lowers the seat 19.5 to 23.5 inches high (measured from center of seat to floor.)
* Optional drafting kit increases height range to 24 to 33 inches high from center of seat to floor.