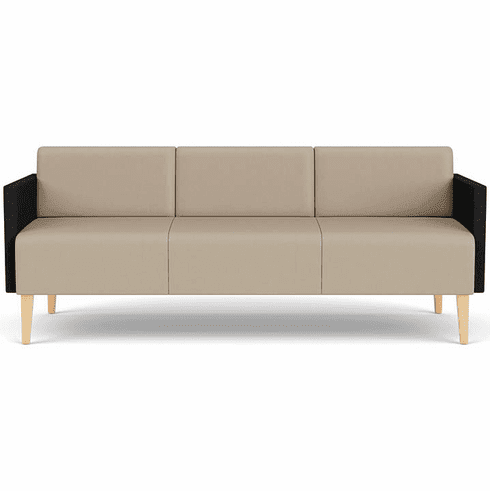 Luxe Custom Sofa - Upgrade Fabric/Healthcare Vinyl
Product Description
The Luxe Custom Sofa with Upgrade Fabric or Healthcare Vinyl is just what your reception area or waiting room needs for an impressive update. Made of heavy-duty materials and components, this Luxe sofa is built to withstand even the busiest of office and medical environments. It holds up well over the years even with daily use by dozens of different guests in your space.
The modern style of the Luxe sofa wonderfully complements almost any existing fixtures. Upgraded fabrics feel especially comfortable, and the healthcare vinyl options are treated with an antimicrobial coating that repels germs and viruses, making it an ideal option for medical facilities.
With dozens of fabric, vinyl, and leg material and finish options, you can truly create a distinctive, customized seating solution that works for your business. Pair with other Luxe custom furniture pieces to achieve a cohesive look in your reception area. CUSTOM ITEM MADE IN THE USA! Please allow 2-3 weeks for delivery.
Measurements for the Luxe Custom Sofa are 76.5 inches wide by 30.5 inches deep by 31 inches high overall. The height of the seat is 18.5 inches, while the arm height is 25 inches. The sofa seat measures 72 inches wide and 20 inches deep and can accommodate three people at a time comfortably. The backrest is 11.5 inches high. Shipping weight is 152 pounds. Ships unassembled. PRICE INCLUDES SHIPPING!
Features:
Seat cushions feature a Matrex seat support system for long-lasting comfort
Healthcare vinyls feature an antimicrobial coating that repels germs and viruses
Dozens of high-quality fabrics and vinyls available. Swatches available upon request
Solid hardwood or steel legs available in a variety of finishes
Limited lifetime warranty and 2-year fabric warranty