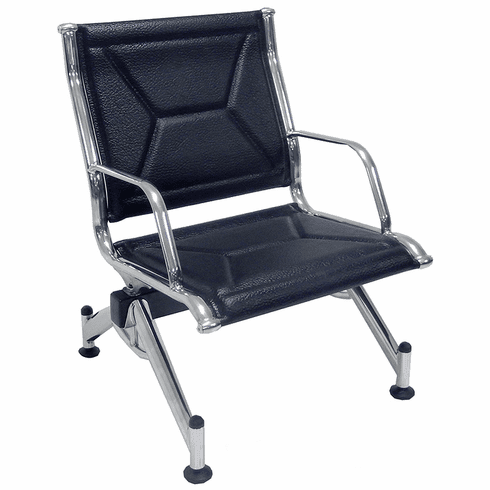 Single Seat Modern Classic Airport Lounge Beam Seating
Product Description
Our airport beam seating is a modern design classic that has stood the test of time in traffic centers and other busy waiting areas worldwide.
IN STOCK!
Sturdy and Stylish Black Waiting Room Chairs
This flexible design makes for excellent black waiting room chairs in any upscale office environment as well as service centers, hospitals, social security offices, automotive dealerships and a wide variety of public institutions. Built to the tough standards of busy transportation terminals, this sturdy airport beam seating meets the demands of heavy traffic in style. Pair it with other
airport beam seating options
, including padded two-, three- and five-seat selections.
Durable Airport Beam Seating
Seats and backs of this single-seat airport beam seating are constructed of firm, molded polyurethane with metal interior plates for superior strength and firm support. The surfaces of these black waiting room chairs are textured for an upholstered appearance, yet their molded polyurethane quality will not tear like fabric or vinyl. Strong frames are stainless steel to provide excellent scratch and scrape resistance and minimal maintenance. The main support of each unit is a 1.8-mm- thick powder coated steel beam, ensuring the utmost in strength. Not intended for outdoor use.
Single Airport Beam Seating Measurements and Details:
* Weight capacity is 330 pounds per seat.
* Each fully assembled chair m easures 25.5 inches wide by 26 inches deep by 33.5 to 34 inches high overall.
* Seating area measures 20.5 inches wide by 18.5 inches deep by 16 to 16.5 inches high, depending on leveling glide height .
* Backrests measure 20.5 inches wide by 20 inches high .
* Each black waiting room chair ships unassembled for safety in transit.
* Shipping weight is 37 pounds .
*
Five-Year Limited Warranty
is included.
* Price Includes Shipping!
Product Accessories
You May Also Like