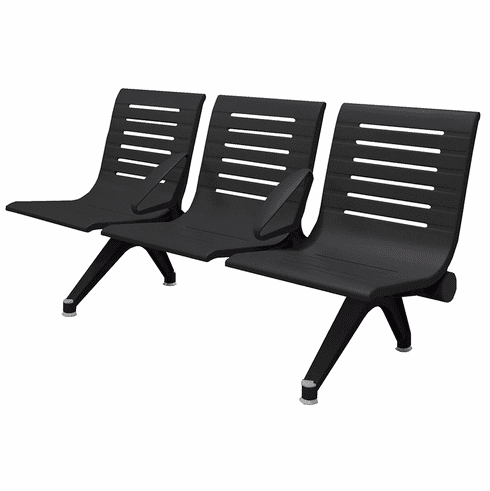 Aero Steel Public Beam Seating Series - 3-Seat Beam Seater in Black Shadow
Product Description
The c13272 three-seat bench brings contemporary style to your high-traffic waiting area.
The Aero Steel Public Beam Seating Series by InStockChairs.com features an elegant matte black finish to modernize your waiting area. Beam seating is an efficient way to provide mass public seating for heavy use areas such as transportation hubs, government centers, medical lobbies, professional offices or educational settings.
Stylish and sturdy, our Aero Steel Public Beam Seaters are constructed of two-millimeter cold rolled steel. The legs and arms are constructed of a sturdy aluminum alloy to withstand the demands of busy public areas. The beam is made of three-millimeter cold rolled steel to support a 400-pound weight capacity PER SEAT. The powder coat finish also includes an anti-rust element, so your beam seaters will look good for years to come. The entire unit is finished in a sleek Black Shadow color. Not intended for outdoor use.
Features of Beam Bench:
Part of a flexible series that includes matching Three-Seaters, Four-Seaters and Five-Seaters!
This model includes two dividing armrests.
Slotted seats and backrests are made of two-millimeter cold rolled steel for excellent strength and durability.
Static powder coat paint finish with anti-rust treatment, in Black Shadow with a matte black finish, looks contemporary and stands up to frequent use.
Three-millimeter thick cold rolled steel is used in the supporting beam for superior load-bearing capacity and stability.
Die-cast aluminum alloy construction fortifies the armrests and legs and is finished in Black Shadow.
Leveling glides and foot caps are light gray for modern contrast.
400-pound capacity per seat makes the c13272 model one of the highest rated capacities on the market!
This beam seating is warrantied and rated for commercial grade use in public settings.
Metal design is easy to clean and disinfect!
See our easy assembly instructions.
Watch the assembly video to quickly put your model c13272 into use.
Five-year warranty is included with this beam seating option.
Measurements and Details:
The Aero Steel Three-Seat Beam Seater measures 68 inches wide by 29 inches deep by 34.5 inches high overall.
Seating area measures 20.5 inches wide by 16 inches deep by 16.5 inches high at midpoint.
Backrest measures 20.5 inches wide by 19 inches high from the seat.
Armrest measures 13.25 inches long by 3.25 inches wide and is 11 inches high from seat at highest point.
Diameter of tubular beam is 3.75 inches.
400-pound weight capacity per seat.
Model c13272 includes three seats and two armrests.
Ships unassembled.
Shipping weight is 101 pounds.
Price includes shipping.
In stock.