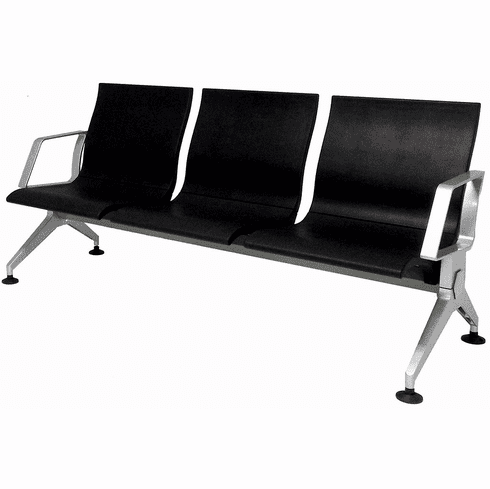 Altitude Commercial Beam Seating-3-Seater
Product Description
IN STOCK!Beam Seating for Traffic Control
Traditionally used in various sizes of airports, transit stations, offices and government centers, beam seating is great anywhere you need durable, ganged seats to control traffic flow, like laundromats and clinics. Altitude beam seaters provide many years of dependability with solid construction and a neutral design aesthetic.
Durable Construction
Made for the rigors of busy airports and transportation terminals, Altitude beam seaters meet the demands of the busiest waiting areas. Seats and backs are constructed of a durable polyurethane material that resists moisture, oil, abrasions, punctures and aging. Interior metal plates in the seats and backs add the strength necessary for 24/7 use. Arms and legs deliver heavy metal construction with a durable silver powder coat paint finish that lasts and resists scratches. The main support of each unit is a 0.79-inch-thick (2mm) powder-coat-painted steel beam that ensures the utmost in strength. Not intended for outdoor use.
Custom Options
This three-seater includes adjustable leveling glides with a hole in each for bolting to floors, but the floor mount hardware and bolts are not included. Left and right outer armrests come standard. Optional armrests between each seat are sold separately below and can be added at any time. Further customize your beam seating with a choice of colors for polyurethane seat covers. These special orders require a minimum order and take 10 to 12 weeks for delivery.
Beam Seating Details
* Weight capacity of 330 pounds per seat.
* 3-Seat Beam Seater measures 69 inches wide by 25 inches deep by 32 to 32.5 inches high overall.
* Seating area measures 20.5 inches wide by 18 inches deep by 16 to 16.5 inches high depending on the chosen leveling glide height.
* Backrests measure 20.5 inches wide by 19 inches tall.
* Left and right outside armrests are included.
* Additional armrests for between seats are sold separately below.
* Other optional accessories also sold below include USB Power Charging Post and Mounted Magazine Tables.
* Several colors are available for polyurethane seat covers as special orders.
*
Ships unassembled for safety in transit.
* Shipping weight is 146 pounds.
* Five-Year Limited Warranty.
* PRICE INCLUDES SHIPPING!
Our Altitude Beam Seaters represent the utmost in durable, heavy-duty beam seating solutions for your waiting area.
You May Also Like