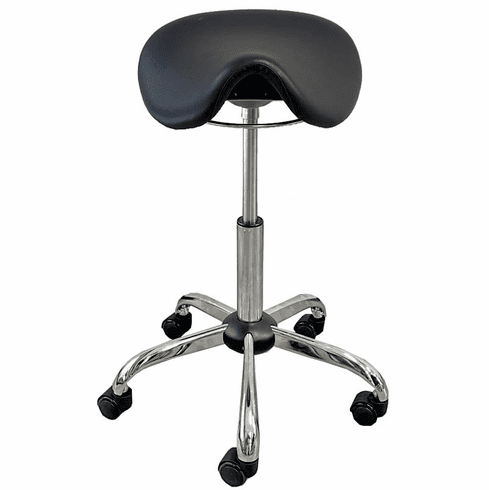 Medical Saddle Stool - 21 to 28 Inch Seat Height
Product Description
Discover the benefits of active sitting with the 250-Pound-Capacity Medical Saddle Stool. Saddle seat stools were designed in response to extensive research on ergonomic seating. They provide a vast array of health benefits compared to standard office chairs with flat seats.
The saddle seat design naturally improves posture by shifting the body weight down and outward to the thighs rather than having pressure primarily focused on the back. In doing so, the shift in weight distribution engages core muscles, which promotes active sitting. This body weight shift gently relieves pressure from the lower back and pelvis and loosens up tight hip flexors that contribute to back pain and stiffness upon standing.

Across all industries, a wide range of professionals and employees can benefit from ergonomic features of saddle stools. Doctors and medical professionals have been among the earliest adopters of this type of stool due to its ability to reduce stress on the body when sitting. Other types of professionals who are a great match for saddle stool use include beauticians, artists, and vet techs, all of whom can potentially benefit from the way that saddle stools reduce fatigue and increase mobility.

This stool's high-density foam seat cushion is upholstered in an easy-to-clean black antimicrobial vinyl that is graded for medical settings. No unsightly paddles are included in the design! Simply raise and lower the stool by lifting up on a discreet chrome ring found under the seat.
The chrome base is 20 inches in diameter, fitting perfectly in small exam rooms and supporting users up to 250 pounds. The sturdy and compact base makes this stool easy to store out of the way when not in use. In addition, it easily moves with your body when pushed across low-pile carpet or hard floors thanks to five swivel casters.
Standard seat height range is 21 to 28 inches high from the center of the seat to the floor for use with drafting height desks, tall counters or in exam settings. Need something a little taller? Purchase the optional foot ring kit with taller optional gas cylinder to increase the seat height range to 23.5 to 32.5 inches.

Ships unassembled. Shipping weight is 24 pounds. PRICE INCLUDES SHIPPING! IN STOCK!

Ergonomic Features:

* Sloped saddle seat fits the natural curve of the hips and thighs, promoting active sitting, neutral spine alignment and reducing pressure on the lower back and pelvis.
* Saddle seating has the added benefit of opening up the hips and tight hip flexors.
* The declining seat edge shifts your body weight to your thighs, more evenly distributing pressure, encouraging better circulation and reducing compression of the spine.
* Can improve upper limb function by stabilizing the shoulder girdle in the seated position, making small hand movements more precise during examinations.
* Stool rolls easily on durable polyurethane casters.

Material & Adjustments:

* Minimalistic and clean design with no levers or paddles. Raise and lower the stool by lifting up on a discreet chrome ring found under the seat
* Resilient premium high density molded foam padded seat is upholstered in a commercial grade black healthcare antimicrobial vinyl that is easy to disinfect.
* Sturdy chrome swivel base supports users up to 250 pounds.
* 2-inch dual wheel polyurethane swivel casters included. For use on carpet or hard floors.
* Optional drafting kit with foot ring SOLD SEPARATELY.
* Five-Year Warranty.

Measurements:

* Seat measures 16 inches wide by 15.5 inches deep overall.
* Base is 20 inches in diameter.
* Pneumatic height adjustable raises and lowers the seat 21 to 28 inches high (measured from center of seat to floor.)
* Optional drafting kit increases height range to 23.5 to 32.5 inches high from center of seat to floor.