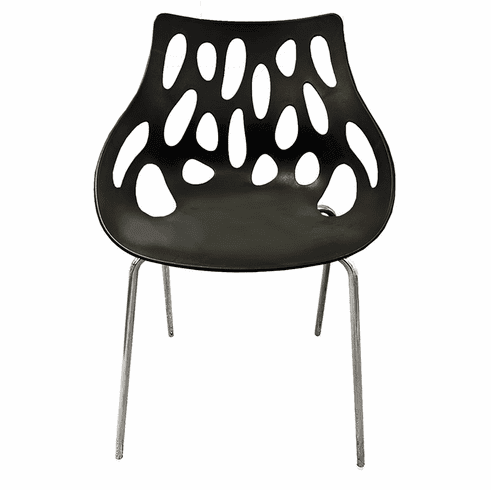 Product Description
Sold in multiples of four only! Price is per chair.
When your seating needs vary from day to day, you're looking for a modern office chair that's handy when you need it and discreet when you don't. The LavaFlow Stack Chair reimagines flexible seating with an attractive modern design, surprising comfort and ease of use you won't find in most other plastic or stackable chairs.
Flex Flow Mobility
These flex flow mobile plastic chairs work great as compact stackable chairs that fit in a corner. When you need attractive and extremely affordable guest seating options, our LavaFlow chairs are ready to shine. These modern acrylic chairs even work well in your high-traffic guest or reception area thanks to their no-maintenance, easy-care construction. Our LavaFlow Chairs are available in various bright, modern colors. Because they're meant to provide quick on-the-spot seating, these plastic chairs are sold in multiples of four only! Price is per chair, and our shipping is always free, making this a deal that really delivers.
See LavaFlow Stack Chair Assembly Video
Comfort and Durability
Guests and other users will find the molded polypropylene oval shell of our LavaFlow stackable chairs has just a bit of flex that offers surprising comfort for a nonpadded chair. These plastic chairs are ideal for low-maintenance seating - just wipe up spills with a damp cloth. Keep these modern office chairs on hand to supplement seating in waiting areas, cafeterias, classrooms or lunchrooms.
Chromed steel tube legs are strong and durable. The LavaFlow stack chair features a 250 pound weight capacity. Clever and stylish oval cutouts incorporated into the design of the seat's shell serve as handles, which make stacking a breeze. Stack up to five of these plastic chairs together for convenient storage.
LavaFlow Stackable Chair Details:
Each stackable chair measures 23 inches wide by 20.25 inches deep by 33 inches tall overall.
Seat height is 18 inches.
Shipping weight is 46 pounds per carton of four chairs.
Legs ship detached for safety in transit.
All components exceed ANSI/BIFMA commercial use requirements.
Five-Year Limited Warranty is included.
Price includes shipping!
In stock!
The LavaFlow Stacking Chair from InStockChairs hits refresh on portable seating. Crafted with a fresh, bold redesign of the typical stacking chair, these flex flow mobile and stackable chairs take your waiting area in new directions. Save money and space by keeping these stylish and stackable plastic chairs discreetly on hand. They're in stock and ready to simplify your seating needs, plus shipping from InStockChairs is always free.