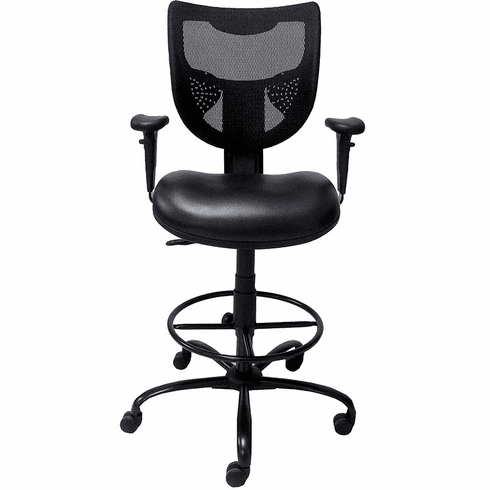 400 Lbs. Capacity Antimicrobial Vinyl 24/7 Black Drafting Stool - 26"-29" or 29"-32" Seat Hgt.
Product Description
This stool features trouble-free counter-height seating for intensive use needs and is designed to hold up to the rigors of multi-shift facilities or any situation requiring top quality, heavy-duty, easy clean-up, trouble-free seating. It's also made with an antimicrobial, easy-clean vinyl seat to promote cleanliness in the workplace, and it is especially ideal for medical and healthcare settings.

Heavy-Duty 400-Pound Capacity Mesh Drafting Stool

Free Shipping! Our heavy-duty 400-pound capacity mesh-back drafting stool is built to hold up to the toughest situations, yet it doesn't let you down when it comes to comfort and support.

Ergonomic Mesh Chair Design

This impressive design features a tough elastic mesh backrest for excellent breathability and comfort. An extra-thick contoured seat pad comprises both high-density foam sub layers for form and low-density top foam layers for a softer surface feel. The extra-tough padded polyurethane armrests are extremely durable yet comfortable and adjust easily in both height and width. An upgraded heavy-duty back tilt allows back to recline and lock into infinite positions. Note that the seat does not tilt at elevated height to maintain stability and safety.

See this impressively long list of quality features, plus a 24/7 400-pound user warranty!
* Anti-bacterial and antimicrobial vinyl upholstered seat eliminates risk of cross-contamination among multiple users.
* Heavy-duty ergonomic mesh chair is designed for 24/7 multi-shift use.
* Stool includes drafting kit extender posts for a choice of 26- to 29-inch seat height or 29- to 32-inch seat height. You can set up at one of the two heights or change the height as needed in the future. Both height options are provided.
* Ratchet height adjustable mesh backrest ensures user comfort.
* Smooth, infinite lock back tilt provides safety and ergonomic seating.
* Armrests are adjustable in both height and width and include tough polyurethane arm pads.
* Armrest height adjusts from six inches to 8.5 inches above the seat.
* Distance between arm pads adjusts between 17 and 21 inches.
* Breathable elastic mesh backrest and air mesh fabric seat cushion provide cool comfort.
* Sturdy 19-inch-diameter foot ring is height adjustable.
* Seat swivels 360 degrees.
* Gas lift seat height adjustment provides ease of use.
* Heavy steel base with steel caster inserts provides stability.
* Dual-wheel carpet casters included.
* Optional Fixed-Height Chair Glides are available separately below.
* Weight capacity is 400 pounds.
* Meets or exceeds ANSI/BIFMA standards.
400-Pound Ergonomic Mesh Chair Details:
* Shipping weight is 59 pounds.
* Office chair measures 25 to 28 inches wide by 25 inches deep by 47 to 56 inches high overall, with low/tall option of plus or minus three-inch back height range.
* Seat cushion measures 20.5 inches wide by 20 inches deep by 26 to 29 inches high or 29 to 32 inches high.
* Back measures 19.5 inches wide by 21 to 24 inches high.
* Meets CA fire foam approval.
* Five-Year Limited Warranty.
* Price includes shipping! IN STOCK!
The 400-Pound-Capacity Antimicrobial Vinyl Drafting Stool is rated for 24/7 use, which makes it an excellent fit for busy work environments. Features like a 400-pound weight capacity plus an antimicrobial vinyl seat make this the ideal stool for healthcare or industrial applications.