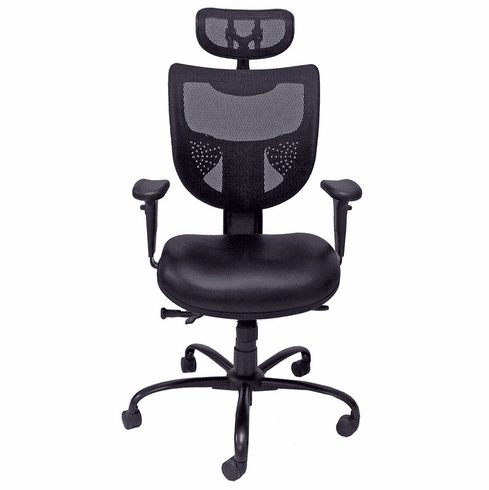 24/7 400 Lbs. Capacity Multi-Shift Black Chair w/Antimicrobial Vinyl Seat & Mesh Back/Headrest
Product Description
The adjustable 400-Pound-Capacity 24/7 Chair with a breathable mesh back helps to keep medical and healthcare offices clean. In addition, its durable and comfortable design makes it an ideal fit for call centers or any business that requires multi-shift chairs. This modern workhorse office chair features a full range of adjustable and ergonomic functions and a convenient antimicrobial/antibacterial vinyl seat.
Built for 24/7 applications and users up to 400 pounds, this unique design for a chair features the finest quality elastic mesh backrest for excellent breathability and comfort. An extra thick contoured seat pad makes use of both high-density foam sub layers for form and top foam layers of low-density foam for a softer surface feel. A supportive mesh headrest easily adjusts up, down, forward and back to help achieve the ideal angle for head and neck support. IN STOCK!

24/7 400-Pound Capacity Multi-Function Mesh Chair with Adjustable Sliding Seat Depth Video

Free shipping! The 400-Pound-Capacity 24/7 Chair is perfect for businesses that require around-the-clock staffing such as hospitals, police stations or emergency call centers. It's designed to benefit any business looking for top quality, trouble-free seating.

Sanitary, Durable and Easy-Care Office Chair

This intensive use office chair is built for the toughest conditions requiring not only durability and comfort but easy care with its tough antimicrobial/antibacterial vinyl upholstered seat cushion. It is ideal for any healthcare situation as well as industrial uses where a fabric seat chair is not practical. The easy-to-clean, healthcare grade vinyl has an antimicrobial additive that works to repel microbes as well as fight off viruses and other pathogens, lowering the risk of transmission to help protect employees, customers and visitors alike. It also helps to prevent odors from becoming lodged in furniture and prolongs the life of the chair.

Adjustable Chair for Multi-Shift Use

Complete adjustability in this intensive use workhorse chair allows incredible custom configurations to fit everyone from the mid-sized user to the tall or heavy user. When businesses have multiple shift workers using the same chair, the easily adjustable features allow each user to feel completely comfortable as they work.

Outstanding Features, Plus 400-Pound Weight Capacity and 24/7 User Warranty:

* Antimicrobial/antibacterial vinyl seat upholstery reduces cross-contamination risk and resists odors.

* Heavy-duty mesh and vinyl chair is designed and built for 24-hour/multi-shift use.

* Weight capacity is tested for 400 pounds.

* Flexible mesh headrest adjusts up/down, fore/aft and tilt angle.

* One-touch sliding seat depth adjustment is easy to use.

* Ratchet backrest height adjustment allows for custom comfort.

* Seat pitch adjustment eases leg discomfort.

* Back pitch adjustment accommodates users of varying heights.

* Forward tilt lock-out provides stability.

* Independent seat and back adjustment allow for multiple configurations.

* Tilt tension adjusts easily for different weight users.

* Adjustable height and width arms are covered with tough polyurethane arm pads.

* Built-in lumbar support encourages healthy posture.

* Breathable elastic mesh backrest keeps air circulating.

* Seat swivels 360 degrees.

* Gas lift seat height adjustment provides ease of use.

* Smooth seat tilting action accommodates multiple users.

* Oversized, heavy-duty casters are included for easy mobility.

Measurements and Details:

* Seat cushion measures 20.5 inches wide by 20 inches deep by 18.5 to 21.5 inches high.

* Back measures 19.5 inches wide by 19 to 22 inches high.

* Office chair measures 25 to 28 inches wide by 25 inches deep by 37.5 to 43.5 inches high overall.

* Shipping weight is 61 pounds.

* Meets CA fire foam approval.

* Meets or exceeds ANSI/BIFMA standards.

* Ships unassembled.

* Five-Year Limited Warranty.

* Price includes shipping!